Health Guard
H.G. HealthGuard Ltd in collaboration with K.E. Dust Control Ltd bring near you the revolutionary SaniGuard® products that act as a shield to your health and are environmentally friendly.
SaniGuard® is a registered and patented EPA disinfectant that kills 99.99% of microbes, bacteria and viruses in contact, creating a personal security zone. And best of all, SaniGuard dries during contact, so you do not have to wait 10 minutes after using SaniGuard as required by competing products. No wait, no sweep, no mess. Safe for all surfaces, SaniGuard has undergone extensive independent laboratory testing!
Research shows a worrying increase in the number of serious health risks caused by germs, bacteria and viruses. Not only can many of these be transmitted from the air we breathe and from the things we touch, the effects of setting regulation are becoming more and more disastrous.
It is estimated that 1 in 3 people do not wash their hands after visiting the toilet, one of the easiest ways to prevent the spread of these infectious diseases. Although you cannot control many of the factors that cause the spread of germs, you can finally do something to protect yourself, your family, friends or colleagues and your environment.
Below are just some of the diseases that could be avoided by using SaniGuard:
Cold
Flu
Respiratory conjunctival virus (RSV) (the most common cause of bronchiolitis and pneumonia)
Sore throat
Chicken pox
Measles
Scarlet fever
Group A Streptococcal (GAS) disease (throat stress)
Staph Infections and MRSA
Meningitis
Norovirus
HIV
Herpes
Bronchitis
Salmonella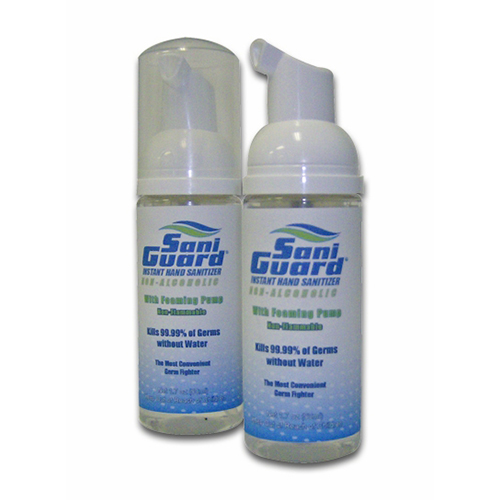 SaniGuard® Non-Alcoholic Instant Hand Sanitizer
With SaniGuard® Non-Alcoholic Instant Hand Sanitizer you can kill 99.999% of germs without drying your skin.
It contains aloe, which keeps your skin moist without water!
And the most important? You can carry it everywhere with you....its size is like an electronic cigarette.
It fits comfortably anywhere: Bag - Briefcase - Backpack.
It can be used anywhere such as: Car - Office - Journey.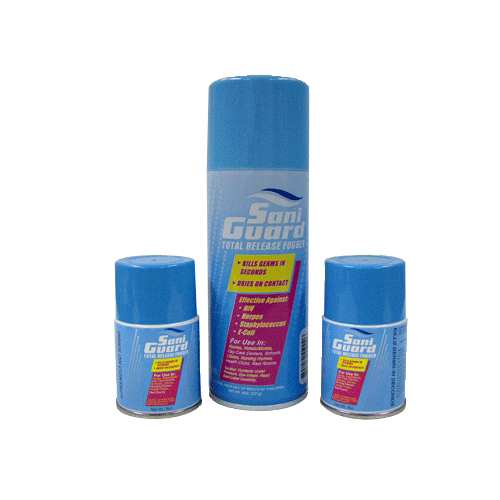 Saniguard® Foggers
Saniguard® Foggers allows you to disinfect all areas immediately!
Use it in high traffic areas such as: Schools, waiting rooms, changing rooms, toilets, hospitals, airports, nursing homes, dentists, pharmacies, hotels, kindergartens, restaurants, cafes.
Available in 2 sizes:
8 oz (cover up to 625sq.ft)
3 ounces (cover up to 155sq.ft)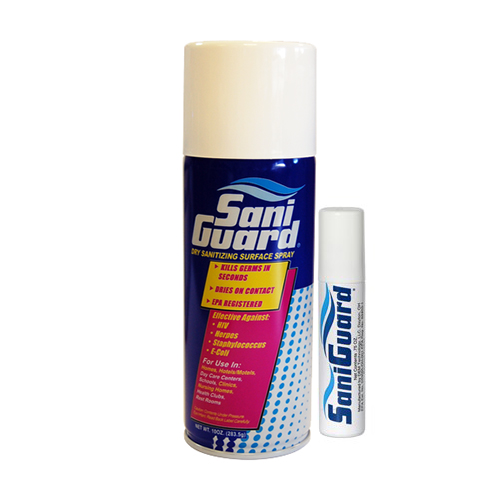 Saniguard® Dry ON
Worldwide, the FIRST & ONLY product that immediately dries the surface of use.
Registered and approved by EPA, Sani Guard kills 99.999% in over 50 bacteria, fungi and viruses in seconds including: MRSA, Hepatitis B, HIV (AIDS virus), Avian Influenza, Swine Flu, Epic (Type 1 and 2), Salmonella, Staphylococcus, Typhus, Fungi.
Sani Gard® is safe to use on almost any surface including electronics and on food surfaces (no rinse with water).
The product is excellent for the cleaning of frequent use of surfaces such as: Telephone & Fax, Door Handles & Light Switches, Toilet Seating & Faucets, Lift & Rail Lifts, Automatic Appliances, Computer Keypads & Mice, Gym equipment, Toys.